DoggieDashboard Reviews from Actual Users
Howdy! I'm Patrick, the guy who built DoggieDashboard.

It can be very hard deciding which software you want to use to manage your business. To assist you in your search, here are some reviews from current and past users. Take your time, read as many as you want, and hopefully they'll help you make your decision. Click on the picture of the review to view a larger image. The text of each review is shown below the image.

Should you have any questions, please feel free to email me directly: patrick@doggiedashboard.com

If you like what you read below and want to sign up for a free DoggieDashboard account, click here.
---
Kathy Cudak: This is an OUTSTANDING PROGRAM!!! It does everything I need it to do to manage my small dog resort. It is so user friendly that even a non computer person can master it in minutes. Patrick is so great at addressing any issues and immediately responds to request. He also continues to add options that even the huge kennels love. Other "dog programs" would charge 3 times the price of what doggie dashboard charges and you certainly wouldn't get the great customer service. I can't imagine running my business without Doggie Dashboard!
Brooke Louise Ryan: I love doggie dashboard and with all honesty I looked around and tried out so many. Doggie dashboard was truely the best. I'm not a computer person at all so it was super easy for me to understand and navigate, bonus part is I don't need to sit at my computer showing my staff how to use it over and over again. I love it. 😃
love from - Ooohh yeah dog care Australia
Lisa Kia: We love DoggieDashboard! It was a game changer for our business! It's easy to navigate and keeps my entire boarding, grooming, training and doggie daycare business all in one place. Thanks Patrick for a job well done and for continuing to add wonderful, useful features.
---
Charles W Hall: We love this software! It has made scheduling and tracking so much easier. We are still learning all the features and are super excited with what we can do.
Chris Zeigler: I wouldn't use any other program! I'm the owner of Good Dog Daycare & Social Club, & Doggie Dashboard is super user friendly for my doggie daycare & makes everything easy to keep track of. Also very fair price & great people to communicate with!
Danika Whitelaw: Absolutely! It's very user friendly, very affordable and some of the best costumer service I've experienced!
---
Ja Mes: We've been an early adopter of Doggie Dashboard since 2016. It has everything we need to efficiently and effectively run our grooming, daycare and boarding business. Patrick is continually evolving the software and upgrading the features as needed and suggested. The annual pricing for this amazing software is very cost effective. Why pay more for features you won't necessarily use with other competitors? Keep up the amazing work!

Jennifer McGookin:Doggie Dashboard is the best pet business software I have used. Its very easy to use and extremely well priced.
The creator is very hands on and most helpful.
I certainly wouldn't use anything else.
I'm from the UK and its perfectly set up for my country too.
10/10
Kristina Handley: Wow!! I am super impressed at all the features available in this program for such a reasonable price. From small petsitting operations to larger facilities, this is truly a helpful solution to keep track of the myriad of details needed to run your business. I love that they are constantly soliciting user feedback and implementing new ideas, the customer service is personalized and outstanding. You can tell a lot of time has been put into this, a true labor of love! Highly recommend!!!
---
Jessica Riggs: I've been using Doggie Dashboard for a few years now. It has GREATLY improved my business operations by keeping everything in one place. It's a cost-effective, time-saving, organizational MUST-HAVE for any business in the pet sitting/boarding industry!!
Brenda Watson Uzee: I love DoggieDashboard. I looked at numerous programs for my business before choosing. I made the right choice. Has everything I need plus more. Great customer support. I am so happy I found this service, and will recommend to all.
Stephanie Crews: It is easy to use, always get a resresponse to my questions🐶.
---
Bryan Converse: Patrick at Doggie Dashboard has done a fantastic job in creating Doggie Dashboard. It is absolutely perfect for our Labrador Retriever breeding business as well as our dog boarding kennel. The program is extremely user friendly, has more then everything that we need and the coolest part is that when there is an issue, concern, comment or suggestion you actually hear back from the owner and designer of the program, he listens and he continues to update the program to meet his clients needs! That is the ultimate in customer service! I will be a customer as long as we continue to breed and board dogs or as long as there is Doggie Dashboard.

Bryan and Gina Converse
Converse Premium Labs and Red Barn Kennel
Wilmington, Ohio
Vanessa Duran: As a home based dog trainer and sitter, I had a hard time finding a kennel software that fit my budget and wasn't overkill for what I needed. Doggie Dashboard is perfect for those with small businesses that just need a simple and organized business platform! I loved that it was so user friendly and was an easy monthly subscription to store all of my clients and their pets information. Patrick, the developer, is also super helpful and quick to respond when you have a question or any issues! It's refreshing to have a developer who listens and responds to suggestions from consumers - features are always being added that only make it better without complicating usage.
I hope to see Doggie Dashboard continue to do well and receive the recognition it deserves! Highly recommended
Tammy Rogers: We looked at a lot of options that were a good bit more expensive and a bit confusing to use. We hit the jackpot with Doggie Dashboard, as we got both an affordable price and a platform that was easy to use. Combine that with the great customer service and a company actually listening to recommendations and then trying to add them into the website. We have been extremely happy with Doggie Dashboard and would highly recommend them to anybody with a dog facility!😊 New Hope Assistance Dogs
---
Rebecca Warkentin:After 10 years using paper files & schedule books in our busy Pet Boarding/Grooming facility, we made the switch to Doggie Dashboard and couldn't be happier!
Before finding Doggie Dashboard, I demoed every major pet software and could not find any that I was comfortable using.
I LOVE everything about Doggie Dashboard!
-Setting it up was simple!
-It's super user friendly and easy for my staff to learn
- I can easily view and update my schedule
- Being able to update the schedule from anywhere makes communication between myself and my staff effortless!
- It's easy to navigate; any information I need can be found in a moment
- I can customize the pet profiles to include the information that is important to us
- I'm so impressed by the customer service! Patrick and I had a miscommunication with some lost emails and he was quick & eager to resolve the mix up!
- Lastly I love the obvious dedication Patrick has for providing an exceptional program! He is continuously improving and adding new features! In the month I've been using Doggie Dashboard there has been several features added that I didn't even know I needed until they were added, now I'm using them everyday! Patrick seems to always be looking for ways to make Doggie Dashboard better and easier to use!

Thank you so much!
Michelle Binstead: Patrick has done such an amazing job creating DoggieDashboard for us to use. Its simple to use, very affordable and he is always finding ways to improve what I already thought was perfect. He replies & answers questions promptly even though he is on the other side of the world to me. Thanks heaps Patrick, I'm so glad a stumbled across this fantastic site that has made things quicker & easier for my new business.
Rachele Dean Valadez: Used this for 3 years and Patrick is great to work with. Always making improvements and responds quickly to any needs or suggestions. Can't wait to see what he comes up with next.
Cindy Wright West: Doggie Dashboard is the best thing since sliced bread- it lets you list your customers, plan your diary, check in your doggy guests, and log your financial accounts so you can see how much money you're making from all your hard work ......and even more than that it's free to use.....the BEST website that does what it says .....thanks Patrick you've taught me how to manage my dog boarding business xx
Viviana Brady: As the owner of a small, in-home business Doggie Dashboard is perfect for me! I've tried some of the other larger names, but seem to always come back. Patrick is awesome! Always prompt with his responses, new features are always being released, and he works so hard to make the best product for his customers. I've used this program for several years and I've loved how it's grown and evolved. Thanks again Patrick, you're the best!
Kathy Crockett: Doggie Dashboard is the best! We opened our doggie daycare/boarding/training/grooming facility two months ago and this has helped us immensely to help us keep track of everything. Patrick is awesome! He goes well beyond to update items as needed. I can't say enough!!!!
Tom Hunt Jr: We use Doggie Dashboard for our Obedience Training Academy. It is super easy to navigate and has made our bookkeeping seamless. Patrick is always updating and making this program better and better. My business would literally be lost without it!
---
Demetre Forest: I have been using DoggieDashboard for close to a month now, and I couldn't be more happy with my choice of software. Last month I was a wreck! I had this passion and opportunity to turn my home into Doggy Daycare and Social Boarding. I had all my ducks in a row with Demedogs Pet Services, except how to keep everything ORGANIZED!! I can access it from my Ipad, phone, laptop, and anything with a web access!

I really enjoy how extremely user friendly it is. That was one worry I had about finding scheduling software. Not with DoggieDashboard!! I also enjoy the features such as Report Cards, sending invoices, color-coded appointment types, new client quick links, code to embed link into your own website. I can store documents, print kennel cards, keep financial entries and print business reports, send confirmation emails directly to client, and did I mention how ORGANIZED it keeps everything!! If you ever have a suggestion for something that might help DoggieDashboard, all you have to do it message Patrick and he responds quickly!

Thank you Patrick for creating DoggieDashboard!! You have saved me!!!
Shannon Engel Reeves: Update: I have been using doggie dashboard for about three years now and could not be happier with it and with Patrick the owner. He continuously adds helpful features and improves it all the time. He is ALWAYS super quick to respond to any questions, concerns, or help you if you aren't technically inclined like myself. The system is extremely easy to use n to teach to employees and is a very reasonable price especially for the great customer service you get. I've never had any issues with the system being down at all the whole time I have been using it. I love how easy it is to use when I need things at tax time. Thank you Patrick for making my life easier!

Doggie Dashboard is by far the best and easiest to use software program out there for doggie daycare. I had previously used another software program that was difficult to teach any employees how to use and took a lot of time to make entries and keep track of packages. My doggie daycare/boarding business has over 700 dogs that have come to us and Doggie Dashboard makes it so easy to keep track of their packages, vaccinations, do report cards, and any other information we might need. Patrick always responds extremely quickly and is available to answer any questions. He even sent me a postcard while he was on vacation to personally thank me for signing up for Doggie Dashboard. You don't find that level of customer service much any more. Doggie Dashboard has made my life so much easier. I can't say enough great things about Doggie Dashboard and Patrick.

Sincerely, Shannon Reeves Owner of Wiggles, Waggles and Tails Doggie Daycare/Boarding
Lauren Calhoun: Have been wanting to leave a testimonial for a long time -- finally wanted to take the time to do it because I am super impressed with the amount of improvements happening lately. We are a small family owned & operated boarding/grooming/day care business and Doggie Dashboard has saved my life. When we bought the existing kennel business, everything was done on paper, and affording a kennel software was just out of the question. I happened to stumble across Doggie Dashboard and I no longer had to pull my hair out. Just having all information in one place in the computer and being able to print out kennel cards is a huge time saver. I cannot say enough good things -- all of the features are useful, fantastic, and being improved constantly. I still do not use Doggie Dashboard to it's full capacity, but I am looking forward to doing so. Just wanted to give a big thanks to Patrick for all of his hard work! You provide an awesome service and it does not go unnoticed. Keep up the great work!
---
Cindy James: We love it! Nothing complicated for our small business use. We run a dog daycare and Sleepover service plus we have an Urban Dog Lounge and Doggy Dashboard has solved all our booking problems. When you have something designed with your industry in mind it makes a huge difference in functionality - no more hacking to make it fit our needs. Thanks for your time and talent on this Patrick!
Damien Mackey: I am just starting my journey with my new boarding kennels, We have a very small set up here in Ireland, and every penny counts when your starting a new business. I chose Doggydashboard for my kennel management suite because it's free for the first 20 dogs, but since I have started to use it more and more I have come to realise I could not be without it, it is very easy and intuitive and is full of many useful features, and what's more, there are more and more features being added, this is an Amazing product with brilliant support from Patrick, you cannot and will not go wrong choosing this as your kennel management suite.

Many thanks Patrick...
Damien
Kristin Buffer: I have been using DoggieDshboard for over a year now and I love it!

I do pet sitting and dog walking and this dashboard has everything that I need to enter my clients information. The site is always in working order and I've never run into any major issues. You are able to sign up for a free account or upgrade to the advanced version that has more features. I also love that I can make site change suggestions to the owner of the business, Patrick. He's always looking for ways to enhance the site and if you ever run into an issue he responds almost immediately!

I highly recommend this dashboard!
---
Christine Wales: Figuring out what software company to use was not easy but I am so glad I did my research and settled on DoggieDashboard. I run a dog training company and teach both group and private lessons. I started with the free version and then upgraded. It seems to keep getting better every month!

Customer service is 5 star and I appreciate that my suggestions are always heard and in many cases implemented. I would highly recommend DoggieDashboard to anyone.
Kath Parsons: We are using it at the moment for keeping all the information about the dogs in our care. Makes it much easier to check on vaccinations and let staff know information about the dogs than a paper based system. Looking forward to getting fully functional with it and using it for boarding bookings as well. I like it better than the others I tested out, much easier to use and Patrick is quick and responsive with any questions.
Brandi Cuellar: Been using DoggieDashboard for sometime now and absolutely LOVE it! It is easy to use and has everything I need for my dog training and boarding business. Thank you Patrick!!!!!
---
Liz Rowley: We used Doggie Dashboard as we opened and grew our new business. It was a lifesaver. It was cost effective. It has all of the basic needs and the support is wonderful. They listen to requests and respond to every concern. LOVE LOVE LOVE this software. There is even a free version for the 1st 20 customers. You can't go wrong giving them a try.
Michael Martin: I have been using this software since opening my new kennel in June of 2019 and I highly recommend this platform to anyone considering it!

It is very easy to use and Patrick continues to add features that make it even easier and more efficient!

Customer support is also amazing!

Just An Overall Great Product!!!!
Diana Juarez: We started using DoggieDashboard in November as a trial and have since fully transitioned to it. It's very straightforward and does not require extensive training to be used by new employees. Our favorite feature is New Client Online Registration which was very easy to integrate with our website www.boxeranddane.com and has saved us a lot of time. We also love the check-in/check-out feature and picture updates. Finally, it's great to see that it is constantly improving and all of our concerns are addressed right away.
---
Sara Gill: Super easy to use and at a great price! The developer is awesome about listening to feature recommendations and the feedback is great. Works perfect for my boarding facility! Thanks for being so awesome!
Tina Lange: Love doggie dashboard it's easy to program and keep track of our furbabies can't wait to add it to the website.
Jayson Thompson: Highly recommend DD for new and small business! Its affordable, user friendly and above all the support is fantastic! AAA+++
---
Kara Mindte: I love DDB. I have been using it for about a year and a half. The owner is very responsive and even implemented one of my suggestions! He is constantly looking at how to improve on the services and every single update has impressed me. It has so many features that I hadn't found on other platforms and it is really easy to learn how to use. I love the different types of reports I can run to analyze anything and everything! You can tell that Patrick really puts his heart and soul into DDB and that he cares for the patrons.
Denise Rexford: I have been using the program now for about 9-10 months. I own a dog boarding kennel. I have to say I LOVE IT. Its easy to work, keeps everything at your finger tips, keeps track of all your human and fur clients. I am so glad I found this program, and look forward to using it for many years. And the best part, the updates. Things keep up, and they take suggestions. Improves it even more. I can not say enough good things about Doggie Dashboard.
Sarah Luke: I opened in June 2019 as Hillcrest Paws Only Inn and I love this program! Like others have said, there are a couple o things here and there that you notice could be better, but just send a message to Patrick and he makes the improvement right away. It's easy to use, has everything I need to book appointments and keep records on the dogs and owners, the support is great and the price is right! I highly recommend DOGGIE DASHBOARD!
---
Michele Ertel: We have used Doggie Dashboard for the last 4 years and it has exponentially improved so many aspects of our business. From a streamlined way to keep all of your customers/ dogs information, to checking in daily daycare/ boarding/ and grooming dogs it has helped us stay organized for a fraction of the price compared to any other software. Patrick is fantastic and any concern or add-on suggestion we've ever had, he is quick to address and even add the feature within days, now that's service! Easy to look up someone's information remotely, you can log on from anywhere, search by dog's name, and get the information you need in 2 seconds, so convenient. We can't say enough about the personalized features and stellar customer service. Thank you Doggie Dashboard! ⭐️⭐️⭐️⭐️⭐️
Elizabeth Savile: When I accidently fell into the line of work of Day-care for Dogs I was a disorganised mess! Doggie Dashboard has been a saving grace for us and has made everything so much easier! Being a small local daycare running in Western Australia, a lot of the major brands could not cater to us and I was paying hundreds for something I couldn't even use half the features on. Doggie Dashboard is not only affordable and easy to use it is a game changer! Being able to talk directly to the owner and designer of Doggie dashboard to help figure out new features has been a god send and my business would fail without it!
Nancy Taylor McDonald: Before opening my boarding business in June 2019, I researched several of the top online kennel programs to find the perfect fit for me. Most of them were way too expensive and more complicated than what I needed!! Doggie Dashboard's free service caught my attention! I decided to give it a try and go from there. Wow! I can't say enough about this program! There are so many features so choose from, and it's super easy to use!! In addition, Patrick, the founder of DD, is only an email away! He has replied in a very timely manner every time I've contacted him. I chose to extend the DD services by paying a small yearly fee and it's been the best decision I've made to help me organize client info. and stay on top of my kennel appointments!!! Thanks, Patrick!!!
Nancy- Puppy Love Boarding
---
Laura Leichtfuss Prunty: Patrick has been so wonderful to work with and really listens to his customers needs. I don't know what we would do without his program. I would highly recommend this software to anyone who owns grooming, boarding and dog daycare services, you will NOT be disappointed.
Marie Santonil-Howard: I am on my 2nd month with Doggie Dashboard. I am enjoying and loving it from features to response time from the support team. I highly recommend them! Cheers
Yvette Giovanni: I cannot say enough about the ease of use and personal support received with this program. So glad I found it. This has made the start of my business and continued growth absolutely amazing and easy. Thank you.
---
Michelle Temme: I started using Doggie Dashboard in January when I opened my dog daycare and training facility.
It is simple and easy to use and has all the features that I need for a great price.
The support team is awesome, getting back to me quickly with any enquiries I had and also adding suggested features really quickly.
Paul Wekstein: We own 2 companies - Mountain Canine College LLC and Elite Florida Canine College LLC
We could not have successful businesses without Doggie Dashboard! Patrick is fantastic to work with and we are fortunate to have found him. You will NOT be disappointed in this service/ product - well worth every penny.
Thank you Doggie Dashboard for all of your support of our businesses! Regards, MCC and EFCC - United
Shayne Uhr: We run a very small training and boarding business. I am an IT guy and gave most of the major kennel management software a try.

For a small business, they were pretty much all overkill. I don't need most of the fancy features they offer and definitely don't need their price tag.

What initially drew me to DoggieDashbord was the price and the ability to "ease" into it with the free option for 10 dogs. I'm still not a paying customer but I will be as soon as COVID runs its course and business picks back up.

Patrick is easy to work with and is very responsive to feature requests and inquiries. We made a suggestion for a new feature and had a workable solution within 48 hours. You can't get that from the bigger players... too many moving parts.

I highly recommend DoggieDashboard for small businesses that want basic functionality at a great price.
---
Lizeth J Davis: We run a small training-based doggie daycare in Salt Lake City,UT. I was looking for a software that would allow us to schedule our doggies, and the dashboard has done that AND so much more. It's kept all of our dogs vaccination records, feeding information, temperament notes, and helped us with our invoicing and finances! I absolutely love it, it's perfect for us and it was not overwhelming to learn like some of the other softwares I looked into. Also, I really love how quickly support gets back to me when I have questions. I've only had a couple of questions since I started using it over a year ago, and Patrick has been very quick to get back to me. I highly highly recommend it and I can't imagine our business functioning without it!
Cassie Brewer: I have just recently started using Doggie Dashboard for my small business. I am loving how easy it is to use compared to other softwares I have tried, not to mention the extremely helpful and timely customer support. Patrick, the owner, has answered all of my questions very promptly. You also can not beat the price! Highly recommend!
Laura Turner: We reviewed a number of different kennel management systems and DoggieDashboard is the one we chose. We're a year in now and we could not be more happy with our choice .... the product is straight-forward, intuitive and does what we need. Furthermore, the service provided by the company is spectacular, answers will sometimes appear before we know what the proper question should be! Happy Campers here!
---
Dawna Norton-Smith: Love it...😁 I've been running my Dog Training business for many years now, and I wanted to go as paperless as possible. When I decided to look into a software program to run my business with, there are many options out there. Some only cater to Daycares and Grooming, some are very costly. This has been a remarkable, user friendly, inexpensive software program, Patrick has been amazing with his customer service. Being an accountant for 25 years prior to starting up my own business, and running my reports and spreadsheets at the end of the year have been a time saver. I would highly recommend this to anyone that is running a doggie business.
Kelly Knight: Patrick is great to listen and add new improvements according to your suggestions.
Amanda Keener Cass: This program has been a lifesaver in helping me get, and stay organized with my Pet Sitting, Boarding, day care, and grooming business! Patrick is very attentive in making sure that the program is user friendly! Anytime I message him, I get an immediate response! Doggiedashboard has made running my business so much less taxing! I highly recommend doggiedashboard to any pet related business!
---
Scott Hendley: I have been a dog trainer for 4 years now, and I am so thankful I found DoggieDashboard! I now have a doggie daycare, boarding and training facility, and my business is so much more manageable because of DoggieDashboard. The software is efficient, easy to use and reliable. The customer support is fast and dependable. I would recommend DoggieDashboard to anyone who works with dogs!
Cindy David-Grout: Great program! So many awesome features to help organize a fast growing pet sitting business! I am so happy I found this!`
Lizzie Bloemer: The program has all the tools I need to run my business. I love that the owner listens to his clients and adds new features based on our feedback. A wonderful company to work with.
---
Brett Rossetti: I love Doggie Dashboard for our boarding kennel. we have a growing thriving kennel and soon doggie daycare business. Doggie Dashboard has been the best value I have found. easy to use and Patrick is always quick to respond if I ever have an issue. Doggie Dashboard is also growing with us. as we grow and add new services so does DDB. it is easily worth 3 times the price.
Lisa Holland: super happy with this program! but more importantly quick courteous customer service ... speaking to a real person when I have a concern or an inquiry or even just a suggestion! I love how open-minded he is for businesses and his clients
Wendy Powell: I love Doggie Dashboard. it has met every need I had with my small business of daycare, boarding and grooming. Patrick is excellent to work with and gets back with you quickly with any questions I have had. highly recommend!
---
Lindsey Sage: DoggieDashboard is by far the most user friendly dog business programs out there. The founder, Patrick, is amazing and listens to what his clients really want
Margaret Eggen: It's a great program and always improving. Patrick is very knowledgeable and listens to your needs and very quick to respond. Very user friendly! Which I love, and easy to navigate through the pages. I am not even using Doggie Dashboard to it's fullest capacity yet, there is so much to offer, love how I can sync it with Goggle Calendar as well. Fantastic addition to my dog boarding business.
Cammie Benson-Nuckolls: DoggieDashboard is a user friendly program with everything you would need to organize your business, staff, clients and their pets! I have used a lot of computer programs and this one stood out for its cost, efficiency, and tech support. The Apps creator is standing by to assist with any questions which was so helpful. Cant recommend enough!
---
Linda Manning: I own a doggie daycare and boarding business and I couldn't recommend Doggiedashboard enough. It has everything I need to run my business.Very user friendly. Always getting new features added to the site and the personal support is fantastic.
Thanks Patrick
Alexis Kelley Bond: Doggie Dashboard is very strait forward and easy to use. It's affordable and you can't ask for better customer service and it's personal, you always hear from the owners. I highly recommend it!!
CStar Wells: i love this app. i own Hearts2love Pet sitter No mess Clean and the creator made me a pet maid symbol to also add my cleaning clients.
i love this dashboard.
If you need something added they will make it for you and the customer service is outstanding. Much Love Doggydash Board.
---
John Newberry: Dashboard is a great tool to help run our business. Easy to navigate and to customize. Pattrick(creator) is very helpful and fast to respond to any issues that may come up. Loves feedback and suggestions to make it the best software it can be. Thanks so much for a great program and the ease it makes running our business. I give it 5 stars!
John
Pound Town Inc Boarding and Daycare
Mary Lewis: Excellent, accommodating and speedy customer service! The system is beautifully simple. Everything you need in an easy to use format. My husband and I have been using this system for over a year and have no complaints. Best bang for your buck! Highly recommend.
Aaron Lewis: We absolutely love this platform. It has everything!! We couldn't operate without it and Patrick has been phenomenal every step of the way. Outstanding features, easy to use, great price, and some of the best customer service I've experienced. 5 stars isn't enough!!
---
Amy Wise: So easy to use and versatile! Best customer support EVER!!!
Erin Tuttle: Works great for us! It's easy to use and has everything we need. Patrick is always easy to get in touch with, if needed.
Joellen Gowing: Absolutely LOVE DoggieDashboard! It has all the features we need and is constantly getting better and better!
---
Angel Sneary: This is a very good program Patrick has done a created a very good program.
Teresa Buffington-Ahlsten: Just starting using doggie dashboard. So far love it. Helps scheduling appointments for our boarding pets.
Tony Bryson: So easy to use and would be so complicated without it
---
Ken & Lisa Baechtold: Doggie Dash Board made it very easy to manage our kennel. When questions came up Patrick was just a fast email away. He would quickly get back to us and solve our issues. Would recommend this software to help you run your kennel.
James from Stanley Bark: We've been an early adopter of Doggie Dashboard since 2016. It has everything we need to efficiently and effectively run our grooming, daycare and boarding business. Patrick is continually evolving the software and upgrading the features as needed and suggested. The annual pricing for this amazing software is very cost effective. Why pay more for features you won't necessarily use with other competitors? Keep up the amazing work!
Maura Reilly: This is a great program to get started! Patrick is super helpful if you have any questions. It is easy to use and provides all the info you need to start a small kennel.
---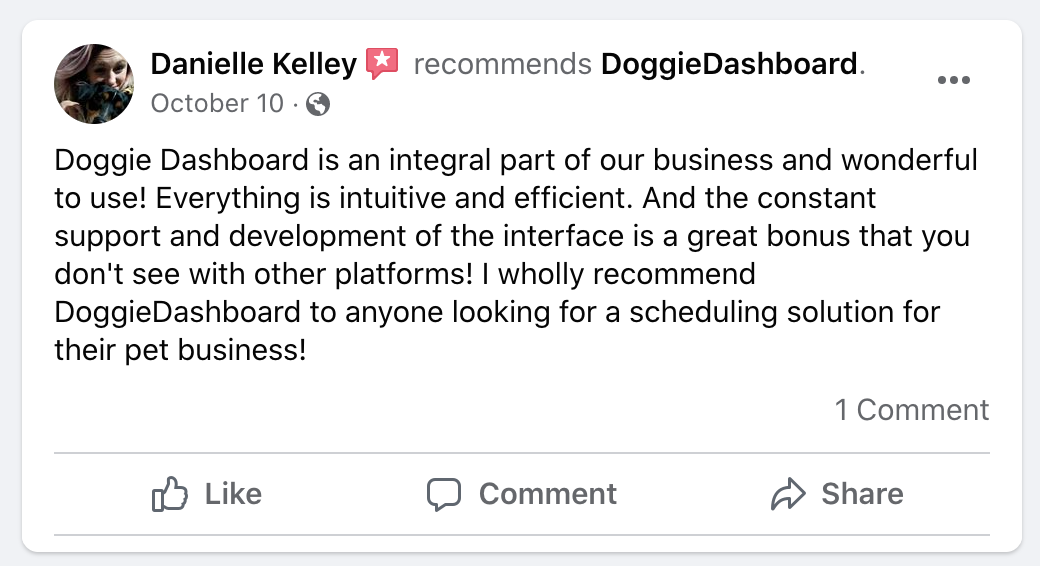 Danielle Kelley: Doggie Dashboard is an integral part of our business and wonderful to use! Everything is intuitive and efficient. And the constant support and development of the interface is a great bonus that you don't see with other platforms! I wholly recommend DoggieDashboard to anyone looking for a scheduling solution for their pet business!
Rene Bailey: So glad I got this!! It helps so much with the scheduling headaches I used to have! Great system- user friendly!!

Love that I can access everything from ANY computer on wifi!! Will never lose any data! Perfect!
Alyssa Madon: Great system with new updates weekly. Extremely easy to use ..

I can't image my business without it!
---
Elizabeth Mork Littlefield: I can't say enough great things about Patrick and his program! It is exactly what we were looking for when we started looking for software for our new business. I love the fact that you can do anything on your phone that you can do on the computer. Patrick is just AMAZING! He is so quick to help and truly wants you to succeed using his software. I have very little patience and a high frustration level and Patrick has ALWAYS answered my questions and helped me in a very quick manner. He is very personable. Seriously if you are in the need for daycare/boarding software you need to check this out!
Kerry Lewis: I am the proud owner of Rover Exotics Rescue LLC and we adore this somewhere and will never change, We were hurting with others and very Expensive now we only pay $25.00 what a relief. Thank You and please don't go anywhere